Getting Clients: Authentic Marketing Basics for Health and Wellness Coaches
Coming Soon!
Course overview
Ready to venture into your own private coaching practice? Need clients? Figuring out how to get clients and market your services in way that aligns with your values as a coach can be daunting to new coaches and seasoned coaches alike. This course takes you through a step by step process for marketing by serving, which feels good and attracts new clients. On-demand video lessons walk you through each step, while done-for-you templates help you implement quickly. Ready to work with clients you love and create a thriving private practice? Then enroll now and let's get started!
Continuing Education Credits
This course is approved by the NBHWC for 4 CE credits. (CE-000177)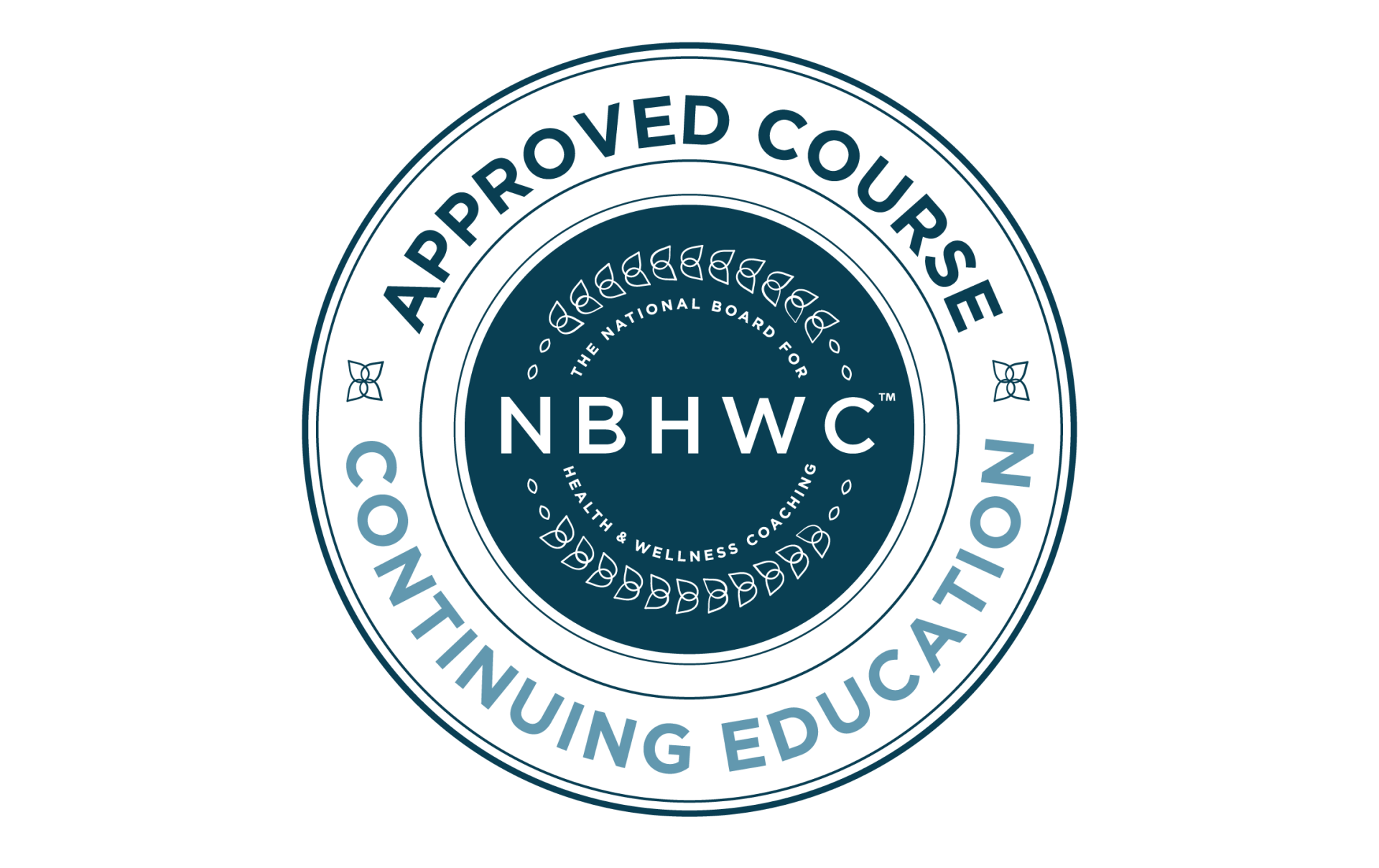 Who Is this for?
This course is for new and seasoned coaches who are ready to start their own coaching practice. It is not designed to just learning about marketing. It's about getting you going with your marketing. It's about getting your first and next clients who you can serve with confidence. Think of it as a workshop. I'll take you step by step through setting up the pieces your initial market plan. We will keep it simple. Online and off-line strategy options. The goal is to get you clients NOW. You can work on scaling later. Your marketing efforts are naturally going to build over time. But you have to start somewhere! And, like most coaches, you may have limiting beliefs and fears to overcome to even take the first step. We'll address those too. Take my hand and take the first steps to building a thriving practice!
Learn at your own pace
This on-demand course allows you to study at your own pace, and immediately implement what you are learning along the way. Video lessons and action steps are designed to put together one piece of your marketing plan at a time, step by step.
Continuing Education Credit
The teaching portion of the course content is composed of videos that get right to the point and launch you into actionable steps. The course is pending approval by the NBHWC for 5 CEs toward your recertification.
(CE-000077-1)
Conquer limiting beliefs about selling.
"Sell" is a four-letter word in more ways than one to many coaches who squirm when it comes to asking for payment. The mindset portion of this course will help you break free to finally get paid for your services and feel great about it.
Templates remove guesswork
The hardest part of marketing is taking action. Downloadable templates take you from learning to action quickly! No more spinning your wheels, spending days, weeks or months trying to figure out what to write, how to format it, etc. Get your marketing done with fill-in-the-blank ease.


Student Community
Our course community allows you to ask questions, encourage each other, share additional resources, and connect with an accountability buddy if desired. You may even make some new friends along the way!
Ongoing Access
Students retain access to the course indefinitely after completion and can review the contents as desired.
Course Objectives:
At the conclusion of this course, the coach will be able to:
Identify the value of a "niche" and clearly describe who they will serve

Craft an "elevator pitch;" a short answer to the question "What do you do?" and "How can you help me?"

Set up a simple website on a free or low-cost platform

Build and nurture an email list of prospective clients so they can see the true you





Conduct a phone consultation that 'closes the sale' with ideal clients.


Identify and design offline and online options for engaging prospective clients, including:

educational presentations

cooking demonstrations

challenges, and more!


Meet the instructor
Tamara Golden
Tamara Golden RN, HNB-BC, NBC-HWC, WHE has been a RN for 32 years and earned her certification as a Health and Wellness coach with Wellcoaches in 2009. She has over a decade of health and wellness coaching experience in an employee wellness setting as well as private practice. Over the years, she collected the wisdom of many marketing experts and eventually designed a plan that feels authentic to her as an educator and coach. Tamara has been a National Board Certified Health & Wellness Coach since 2017.